In celebration of this coming year's "National Cherish An Antique Day" on April 9, this seven generation button collection was pulled out of my archives with the hope to finally get several of the earliest mounted on cards and framed for others to enjoy.
This annual observation was created to encourage "seekers of the story" of these special heirlooms and personal treasures, filled with history and
provenance —and in my opinion, is meant to be shared with others.
Are these buttons of historical significance? A thing of beauty? A subtle nod to a specific political opinion ? Or a symbol of genre, class, or culture?
Following are three examples of early English button collections. They mounted their collections in their own unique ways…
The large carded collection originated in Ilfracombe England from the early-mid 1800's and brought to the US in its entirety by the family in the first quarter of 1900. All exclusively English pieces. Examples on the cards mostly consist of metal shank grouped by theme.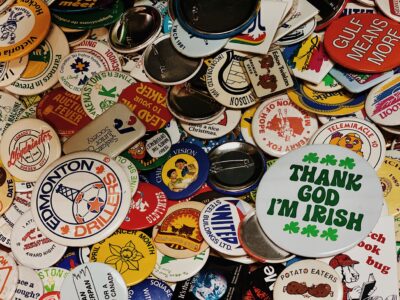 The button string traditionally put together by all young girls of earlier times, was strung by the family in early 1900 positioning buttons smallest to largest. Several included in the string are early 1800 'Norwalk' pottery buttons made in Norwalk CT. Examples show their highly glazed, mottled red brown tone in appearance.
The third example card is from the 1940's and shows a variety of black medium, patterns and techniques being used in buttons found here in the United States.
If you are like me, you may have a special family treasure that you want to mount or display…or you can find a special item of your own that can now become a first generation heirloom.
On this day, we encourage you to go find yours and the rest will become history…