It's just home to me. And, it is also home to dozens of visitors each year passing through the Triangle region.
About 4 years ago, I decided to open an Airbnb in my home. Since then I have hosted hundreds of interesting visitors from around the globe. I did this for two reasons – I really enjoy meeting and learning about people and I also really enjoy sharing my stories.
During each of their stays, someone always mentions how many interesting things I have and how comfortable my home feels. Some say I am an antiquarian. I like to foster my guests' curiosity.
My initial response to these guests is that my home is filled with family heirlooms and that I just have found myself in the final possession of far too many. The history got passed on and they have landed in my home. It is hard to give up things that have been around since my childhood. They give me comfort. They are a window into my life.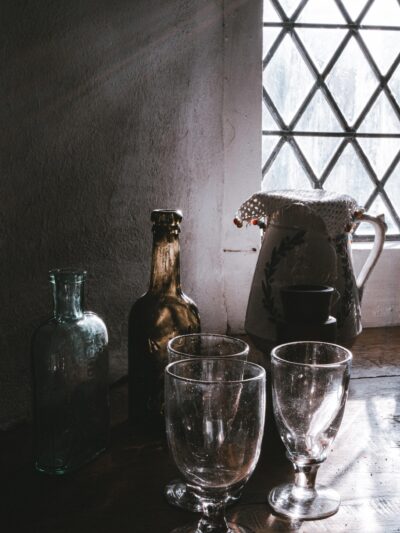 Both of my grandmothers were antique dealers in the 1940's. My mom's name was Gladys and my Dad was Art. My grandmothers knew each other professionally as antique dealers but mom and dad had never met. Dad's mom asked Gladys (at age 20, at the time) if she would be Art's pen pal during WW2.
And the rest, as they say, is history.
I truly prize my grandmother's antique store signs most and the tin horse made by my grandfather and used throughout the mid-1900's by local farmers as the stencil over their barn doors. I have its image painted on my shed in my own kitchen garden.
I do like having things around that are meaningful to me as well as decorative. If you don't have family pieces yourself, now is a good time to start collecting your own.
If you need inspiration as to where to start figuring out what you might like to start decorating with, try looking through your photos, especially the old ones.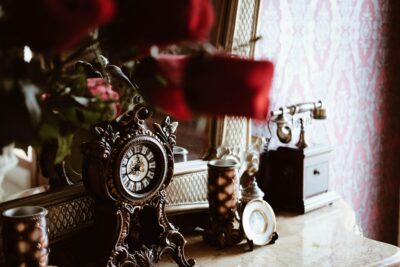 Look closely at the overall setting and then more closely at all of the details. If you find lots of your family or yourself at the beach, that can be a natural theme for decorating.
Colors? Look at the background. I still have a red vintage cooler we used all the time at the lake cottage. Not a Coke cooler, but still colorful, functional and I keep it on my screen porch.
So what if you don't have the specific item, it could be found in one of our on-line estate auctions, or rummaged at a local thrift store or estate sale.
Search for vintage clothing like an old Madras plaid hat, camping gear like the cooler, transistor radio, old metal lawn furniture. Even framed art of a lakeshore or a cityscape that you visited gives your walls interest.
Think of treasures you can search out for your own home, or Airbnb. Creating heirlooms of your own will give the next generation memories and stories to share.
So now when my Airbnb guests comment on their stay, they say that my stories, the history of these items and the feeling of comfort my home provided is what they will remember and why they will return.
What do I remember? The gift to be able to share my history and my memories with my guests.